Tall Men's Jeans - We've Got You

We've got you covered when it comes to finding extra long tall men's jeans.
We've got over 100 pairs to pick from with leg lengths of 36, 38 and even 40 inches.
As a tall man myself, the main reason 2tall was born was because of my own problem finding tall jeans.
Let's face it, tall men's jeans from big and tall stores are terrible. They're a token offering at best. Created by people who clearly don't know what the struggle is like to find nice jeans that fit.
I wanted jeans that actually fitted my 40 inch inside leg, without being as wide as a tent.
When we first launched the site, slim fit jeans for tall men didn't exist. I know - we actually had to go out and get them made for us.
We've grown from having a handful of styles in a 38 inch inside leg, to our denim offer today, with over 100 pairs to pick from. With waist sizes starting at 28 inches. That's unheard of !
Just try finding jeans with a 28 waist and 40 inch inseam anywhere else. We sell them, as we have people who want them, and to honour our commitment to actually sell the sort of jeans that tall men want to buy.
It's why we commit to selling a range of fits in our collection, so we carry jeans that fit for a whole range of tall guys.
Tall Men's Jeans - The Fits
SLIM FIT
Our best selling jeans are without doubt slim fits. That's because the vast majorit of our customers tend to be tall slim men. We make no apology for not stocking big and tall men's jeans; there's plenty of places that do. We look after the guys who are tall and slim, and our collection reflects this.
Our extra tall slim fit jeans work best for guys with long slim legs.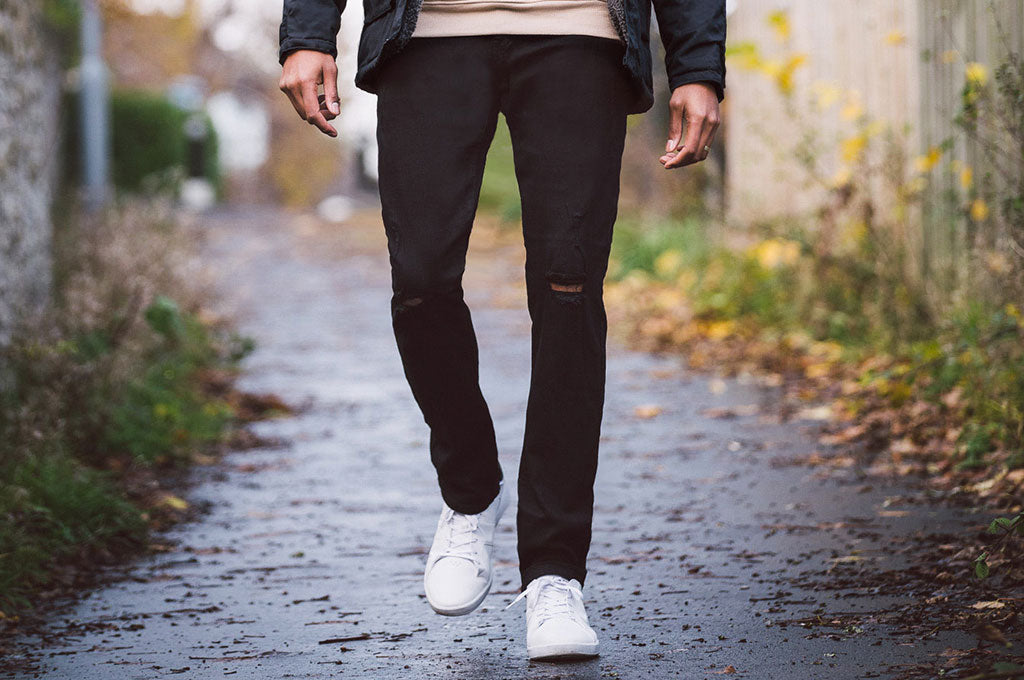 Our best selling Slim Fit Jeans for Tall Men are our Ed Baxter Slim Fit Jeans, which come in waist sizes from 30-42 inches, and leg lengths of 36, 38 and 40 inches.
SKINNY FIT
These are huge for us just now - as we're literally the only place you can find skinny fit jeans that will fit tall men in extra long leg lengths. In our tall mens skinny fit jeans, we've got leg lengths from 36 to 40 inches and waist sizes starting at a mere 28 inches. When we say we're the home of jeans for tall slim guys, we mean it!
[caption id="" align="alignnone" width="1024"]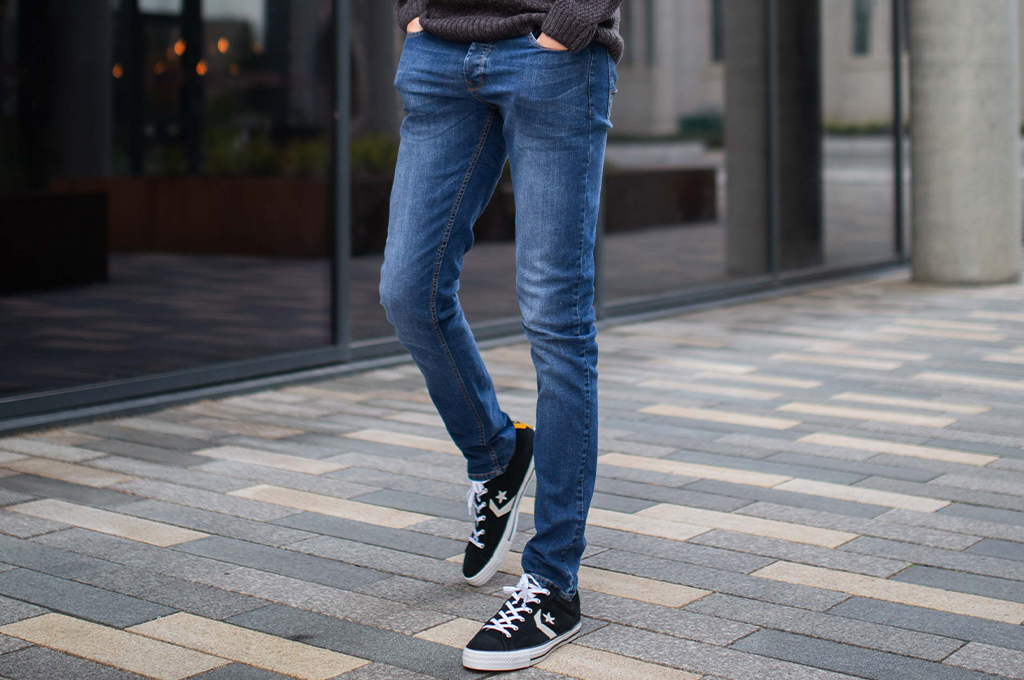 Skinny Tall Men's Jeans[/caption]
REGULAR FIT
Regular fit is better for guys with bigger legs - such as heavier built rugby players, rowers with big thighs etc. They also work well for men who don't want to rock the slim fit look. We also have a range of regular fit jeans for tall men.
Best brands for this are Mish Mash, and Mustang, and we also have a regular fit collection from Ed Baxter too.
RELAXED FIT
We also sell extra long jeans in regular fit too, with leg lengths of 36, 38 and 40 inch inside legs.
EVERYTHING ELSE
Even if you're looking for something a little different, and have struggled to find say coloured jeans, or extra long ripped jeans, we can help with them too.
NEED MORE HELP?
Check out our size guide if you need more help with how our products fit, or what to know how we measure our products for size.
And if you still need help. you can get in touch. Contact us here or you can call 0333 800 5225. We're open Monday to Friday from 10am to 5pm UK time.
When it comes to tall men's jeans, we've got you covered.