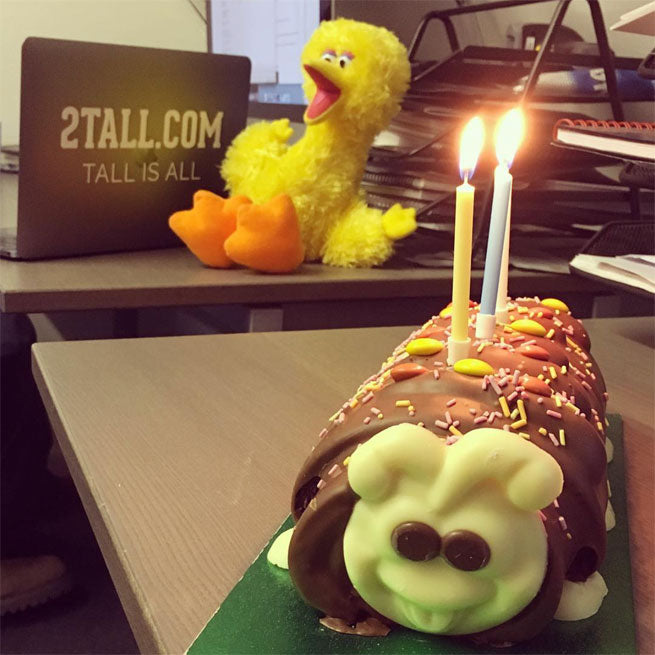 Wow, time sure flies when you are having fun!
It is crazy to think it has been 5 years since J.J. first got the keys to 2tall HQ and got to work on creating a business that would provide clothing for tall men, just like us, that would actually fit.
To Our Customers
First of all, we have to say a huge thank you to all you guys. Thank you for making these first 5 years so special and for all your continued messages of support. Whether it is sending us an email, leaving messages across our social media, or over the phone, we appreciate every single one of them just the same.
It is an honour to be leading the line for fellow tall guys across the globe. We are loving every minute of it.
What Have We Been Up To?
It has been a busy 12 months for us, both in terms of new products and personnel. Because we listen to your feedback, we continue to discover new items that you would like to see.
One of those products you requested were slim fit training pants. After lots of hard work, we were able to launch our new collection at the beginning of the year.
We've also added a brand new collection of extra long t-shirts and shorts sleeves shirts, that we are sure you guys will love. Also we have a little surprise for you, which will be online within the next 3 weeks. This may involve ripped jeans…
Our team has also grown, with Declan, Mike, Ryan, Connor, Tom, Adam, Al, Sam, Sean, Chris and Zak now all part of team 2tall. A big shout out to those guys for all their hard work to keep us striding forward.

What Is The Plan Now?
We have big plans for the next 12 months. We are working on many projects to enhance the range of clothing for tall men that we have to offer.
Out of all the projects that we have planned, we can wait for you to see our collection of jackets that we have in store for Autumn / Winter.
It is exciting times here at 2tall HQ and we cannot wait to share it with you.
What Would You Like To See?
In these last 5 years, we have learned so much and it mainly comes down to listening to you guys, our customers. Although we are tall guys and know what it is like, we love hearing your requests and finding out what styles / products that you would like to see.
For example, last year we launched a collection of extra long shorts with a 15 inch inseam. Although you guys loved them, you told us that you would also like to see a shorter leg version too. We listened to your feedback and this summer we have added a new collection of shorts with a 13 inch inseam, which are now online.
If there is anything that you would like to see, just ask and we will see what we can do.
Speak To Us
Remember we are here to help. So if you ever have any questions regarding sizing or how a product fits, feel free to contact us, as after all we are tall guys just like you, so we understand.
Thanks again for all you support over the last 5 years.
Andy.
#team2tall