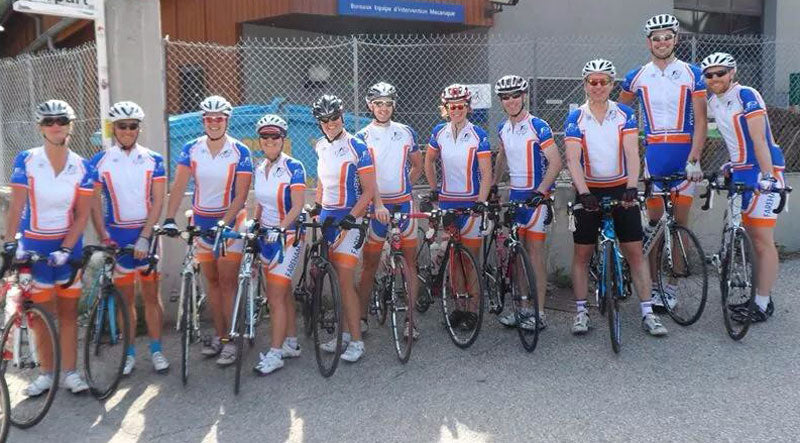 Cycling for tall people, is it possible?
Chris Williams is a 2tall.com customer and cyclist, and at 6'10" lives in a world that is dominated by a crowd of average height people. You would have thought that being tall would stop him from whisking along through the countryside with the breeze in your face.
But it is possible.
Have a guess which one I am ! With my cycling club Farnham Wheelers this year in the French alps.
When buying a bike these days, your options are endless, but what if you're tall……
Many options are available so don't worry. Whether you're looking to get into Mountain Biking, Road Cycling or even just using it as a means to get around whilst the summer weather is about.
With manufacturers slowly realising that all of us aren't 5ft 8 and shaped like a pro cyclist, there are options becoming available slowly and surely; these manufacturers include Specialized, Cannondale, Canyon and Cube, to name a few.
Mountain bike wise you have bikes called 29er's. This is referring to the wheel size which means the bike is 1.5" taller than normal mountain bikes. The whole frame is larger therefore suiting taller riders such as myself.
Road bikes have 29" wheels as standard, however larger frames are now available as people are getting taller. The frame sizes are usually in cms and go up to 65cm in a Canyon which can suit a rider up to approximately 7' tall, with a few modifications.
My next bit of advice would be to invest in a professional bike fit (available in most local bicycle shops), so as not to cause any localised pains. A road bike does not necessarily have to be uncomfortable, a huge variety of road bikes exist including frames which allow for a more upright riding position. Initially, the best approach is to discuss with a bike shop assistant your cycling needs, for example any existing injuries and intended usage, to enable them to suggest the most appropriate options.
Cycling clothes are also a struggle for taller cyclists. I am primarily a road cyclist and I use lycra bib shorts, usually xxl for the extra length. It is essential that the bib shorts fit from the crotch to the shoulders as the lycra material will accommodate for most waist sizes. A good fit will ensure comfort during longer bike rides.
As an amateur, trainers and standard pedals will get you going. If you intend to use clip-in pedals, you need specialised shoes. There are a few different brands which produce larger sizes; all sizes are in European measurements, just to confuse the matter even more. Shimano go up to a 52 which is UK size 14, Bont go up to a 50 which is also a UK 14 and Sidi up to a 52. Custom shoes are available from Bont if your shoe size is bigger, but at a premium price. Sizes vary between manufacturers so try before you buy.
Now get out there and ride!
Chris