Backing British Basketball - The Hoopsfix All-Star Classic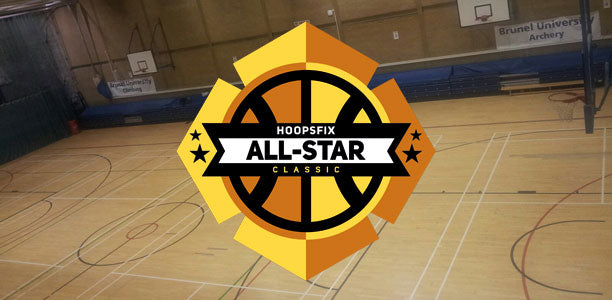 We're delighted to announced that we've signed our first sponsorship deal, supporting British Basketball by adding our name to the sponsors list for the forthcoming Hoopsfix All-Star Classic event in London on Sunday 15th June.
A lot of our customers play basketball, so it's only right that we do what we can to give them some support back to help the community, especially in light of the recent funding cuts by UK Sport. A lot of our customers play for amateur, EABL and BBL teams here in the UK, represent Team GB on the international stage and in colleges and professional leagues in Europe and the USA.
The aim of the event is to raise awareness of the amount of British talent out there, and give some exposure to a sport that's almost ignored by the mainstream media, who at best seem to treat british players as curiosities, focusing on their height rather than their talent. The event is also raising money for the Hoopsfix Foundation - set up to create better facilities to allow people to enjoy the sport they love at a grassroots level.
Sam from hoopsfix.com is in regular contact with British players right across the globe, and was one of the first people to support 2tall.com when we launched - simply because he knows the people who visit his website, and so understands the struggles they face when it comes to finding simple things like jeans and shoes.
2tall.com isn't a traditional "big and tall" store that offers nothing for guys who are fit not fat, who need normal sizes in extra long lengths. "It's great to hear from guys who are so happy to have found a website that understands the problems they face" said J.J. Warwick, who at 7 foot, can relate to the problems his customers face. "It's why I started the business - their are other guys out there just like me"
"Our typical customer is 6'7" and wears a size 14 shoe. They love the fact that for the first time, their height isn't out of the ordinary. We've got plenty of customers who are 7 foot plus, who love the fact that we even have stuff that will fit them. "We get so many messages just saying thanks for existing - and for understanding what it's like"
Last month we celebrated our birthday and shipped our 2000th order, so we're delighted with how things have gone in our first year, and have lots more planned for year two, starting with adding our support to the Hoopsfix All Star Classic.
For full details, and to purchase tickets visit hoopsfixallstarclassic.com