A Big Shout Out To Our Customers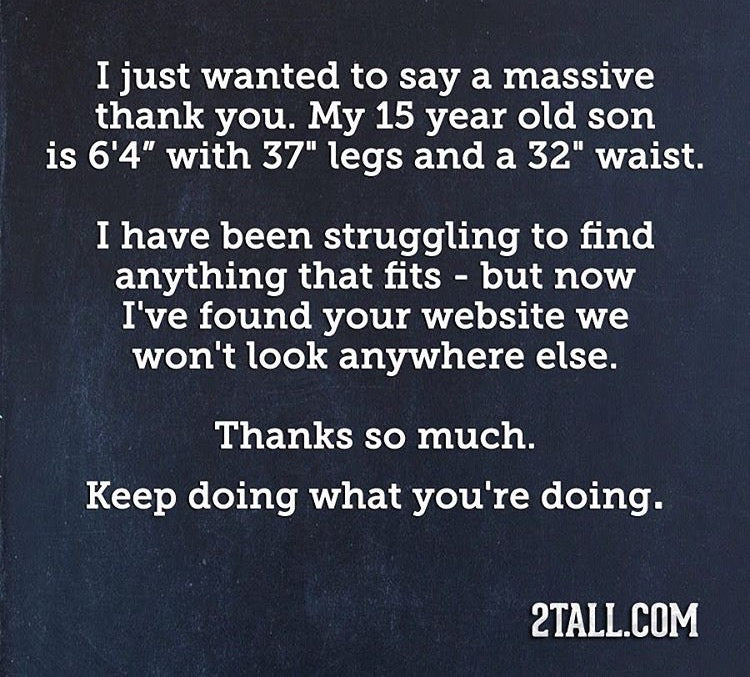 As tall guys ourselves (6'9" and 7'), we knew how hard it was in the past to find clothes to tall men, and that is the reason why 2tall.com was created.
However one of the main reasons that we are so motivated to continuously enhance our product range, is due to the all the thanks and postive feedback we receive from our customers.
Our customers love the fact that when they contact us, they know they are speaking to a tall guy, just like them. Someone who understands.
Since we started, we've always loved hearing what our customers have to say, whether it's regarding a certain product, or enquiring about us creating a new product style or item in the future.
This was the case for our slim fit jeans for tall men. Although we knew our customers wanted them, we had a hard time trying to convince manufacturers to make them. This was becuase they presumed tall guys didn't want something like this, as they used to classed us (tall guys with slim and athletic builds) in the same category as the big and tall market. But eventually persistance paid off and Ed Baxter agreed to work with us to create the product.
Ever since we launched the jeans, the response has been exceptional and the feedback was brilliant.
Our customers realise that we are making life easier for tall men, and are always getting in touch to thank us for existing. We can't thank you enough for all your support.
These kind comments are what keep up going and gives us the reward knowing that what we are doing, is making a difference for all the tall guys out there.
So remember we are here to help, so if you have any questions or queries feel free to get in touch.
Thanks for all your continued support.
Andy and J.J.
#team2tall